Pinterest Made It Official
Pinterest officially cut ties with Board Booster! After much speculation and rumors, the announcement was finally made. Board Booster also made an announcement they will be officially closing their doors on Wednesday, June 27, 2018. (I'm sad for them really) Tailwind is still an approved scheduler as well as Buffer and Ahology. I, of course, am all about Tailwind, it is my number one favorite tool for my business!!
This site may receive compensation that comes from running advertisements and affiliate links. The advertisements on this blog in no way affect my opinions or the content of A Million And One Ideas. Any compensation we may receive is at no extra cost to you. I only promote affiliate links for products I use and trust.
Tailwind has so many fabulous features, so I say let's dig in and I will point them out and tell you why I believe they are a huge asset to any business!! And also may I mention so is Pinterest and if you aren't utilizing either of these options you are missing out. Check out these posts where I talk more about Pinterest here and here and right here is my first Tailwind post. Things have changed quite a bit since my first Tailwind post, this one will be filled with the most current information.
Some Of Tailwinds Best Features (in my opinion)
This is the list of SOME of my favorite features.
The ease of scheduling
You can post to Facebook, Twitter, and Instagram
The publisher
Insights
Weekly Summary
Tribes & Insights
Smart Loop (coming soon)
30-day free trial (no credit card required)
It is a Pinterest approved tool
If you are interested in checking it out you can use my referral link to start your 30-day free trial right here.
The Ease Of Scheduling
The chrome extension is a must-have! You can schedule from anyplace on the web just by clicking on the Tailwind extension. I use it all the time!! daily really.
You can schedule pins from your blog or business and schedule to as few or as many boards as you want all at once. Super easy and such a time saver. Right from that same schedule, you can schedule to post to Tribes, Facebook and Twitter!! All in one spot, where else do you find this ease of scheduling? And you can also schedule to Instagram. Instagram is at an extra cost but so so worth every penny!!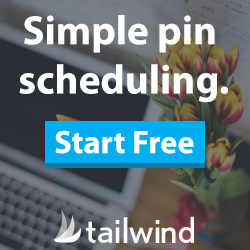 The Publisher Tab
The board lists are and an amazing feature where you can go in and separate boards and topics to make it easier to track when and what to share.
Your custom schedule, this feature to me is gold!!  It takes the guesswork out Tailwind gives you a schedule based on when your audience is most engaged. You literally just let Tailwind pick the best times of the day and you schedule your pins to go out at those key times.
Under the publisher tab you can see what pins have already published and what pins are in the queue to be published, so say you want to delete one or change anything on that pin you can do it here. It's also where you will find the pin from Instagram feature, anything you have posted on Instagram can now be pinned to Pinterest right from Tailwind!
Tailwind is in the Beta testing period for the Smart Loop feature and it will also be found under the publisher tab. I wish I could give you some valuable information on this new feature but I don't have it as of today. When I do I will let you know if I love it or hate it. If you are ready to give Tailwind a try grab your first month free right here.
The Weekly Summary
The weekly summary provides details on how many repins you had in the past 7 days, how many you had the previous week and if you were up or down from the previous weeks.
It even breaks things down more in the next step as to how many domain pins you posted and how it compares to the week before and the average in previous weeks.
On the right-hand side of the page, it shows the most repinned boards of the week so you can see what was trending on your page throughout the week.
The Insights Tab
This is where you find your analytics reports. All the good stuff to help plan your strategy for the days to come. First, your Profile performance which is broke down into these categories:
Followers
Pins
Repins
Comments
Virality Score
Engagement Score
Engagement Rate
I use all these analytics in my planning strategy. What my followers are engaging with is what I know I need to put more time into. And if the engagement I need lies elsewhere what can these numbers show that will help me improve these scores.
The board insights are broke down into these categories:
Pins
Followers
Repins
Virality
Engagement
You can go even further by checking just group boards, secret boards. and personal boards. If you feel the boards are hurting you more than helping you it might be time to leave if it a group board or archive it if its a regular board. I never delete my boards because they may become relevant during another season.
The pin inspector helps you pinpoint what pins are performing best and will also suggest similar content your audience may be interested in.
Website insights are just what they sound like, results from your website that could be trending across Pinterest. With this, you can see what your audience is most engaged with on your blog or business page. I use this to help plan what content I need to plan for the next week or month.
Organic activity shows your latest domain pins that have been repinned so you can see in real time what's trending from your domain. I particularly like the word cloud it shows trending keywords and hashtags from your site.
Next is referral traffic this is where you link your Google analytics to track your ROI from your Pinterest profile. Visitors, page views, and revenue.
Tribes and Tribe Insights
Tribes are fabulous for finding fresh content that you know you can trust. It's also a great tool for growing your reach and audience. With the announcement that group boards won't get as much attention and may not be as important for growing your reach and audience, joining the right tribes is key.
Recently Tribe insights have been added and what an eye-opener. I quickly realized which tribes I should be contributing to more and which ones I should leave.
I started my own tribe which is growing at a slow rate, however, I don't find this to be a horrible thing because it's easy to track who is or isn't contributing. Also helps to keep spam under control. If you would like to join my tribe you can by following this link. I would love to have you join in the fun!!
Tailwind For The Win
Tailwind is such a huge part of my marketing strategy. I can easily schedule posts and pins and remain active on all platforms without being on them all day everyday frees me up to take care of my clients and more time with my family. Priceless!!! It's almost growing your business reach on autopilot!!!
You may still be on the fence and unsure? Remember the 30-day trial is completely free with no credit card or debit card information is needed. If it's not right for you after 30 days you walk away no hassle no strings. As always if you have any questions reach out. I'm always happy to help!!
Have a blessed day, Myla