A WHOLE NEW WORLD
I have wanted to start a work from home business for years but never found anything that really appealed to me until I stumbled across The Become a Pinterest VA course. I was intrigued by the idea of Pinterest being my job! How fun is that?? I'm on Pinterest every day anyway so it only makes sense to make some income from it!
I decided to take the chance and purchase the course. I am not sorry I did! It really is a whole new world looking at Pinterest from a business standpoint instead of a place for me to go find ideas or products. I literally had no idea how huge it is and how important it is for small businesses and bloggers to be on there putting their products out there to be discovered.
This post may contain affiliate links and advertisements. Which means I could receive compensation (at no extra cost to you) should you make a purchase through a link on this page. The income we receive from affiliates or advertisements is what helps keep our blog going. We appreciate our readers and thank you for any purchase you make. The advertisements in no way reflect the opinions of A Million And one Ideas.
Now I have the training and the opportunity to help others grow their business. I love helping people succeed so this is the perfect job for me. Don't get me wrong I'm putting in a lot of hours to get my business built up and find clients. I enjoy it so it doesn't feel like work. If you've ever thought of starting a work from home job I highly recommend the course learn more about it here
DO I HAVE TO BE ARTISTIC TO BE A PINTEREST VA?
No, you don't which is another plus!! There are so many resources out there to help with creating pins. Free stock sites like Pixabay or Unsplash these are the two I use most often to find images for pins. So much fun and easy once you get the hang of it. If that was stopping you get it out of your head. You can do this.
I create my pins using Canva it's completely free unless you upgrade to a business account. The free version is what I started out using it has all the features you need.I upgraded to the business account to make it easier to keep each clients pins and photos seperate. You can sign up for a free account by following this link.
WHAT THE COURSE IS LIKE
The instructors Gina And Kristen are fabulous!! They walk you through the course step by step with video tutorials as well as written text and downloadable worksheets.
There are no deadlines or time frames to be finished by. You take the course at your own pace. Once you complete the course you can still access it which is a real lifesaver because you can go back and touch on topics you thought you had down but didn't. (Trust me I go back often) Did I mention lifetime access! You get all the latest and greatest updates for life at no extra charge!!
The Become a Pinterest Virtual Assistant course is worth every cent I paid for it and more. There is a lot of support for the course as well. Live Q&A sessions with Kristen and Gina. A Facebook support group and emails. You don't take the course and then that be the end of it. They truly want us to succeed.
You can also purchase other products such as pin templates, in the Pinterest Virtual Assistant Shop. You can check that out by following this link.

AM I MAKING A LOT OF MONEY$
Truth is no I'm not however I know I will be. I'm 2 months out from the course so I feel that signing on 2 clients is huge!! The potential to make good money is there. It requires a lot of work and determination. It won't happen overnight so don't give up! (Update 2 years in and still loving it and making money in my pjs}
Gaining trust and growing an online business takes time, patience and perseverance. My time will come as long as I keep working and keep being true to who I am.
DO I REALLY HAVE TO BE ON PINTEREST PINNING ALL DAY?
Also a no!! Tailwind is  a scheduling tool that is a real lifesaver. You can choose one day a week to sit and schedule pins for the whole week 2 weeks even a month out. I do it every Sunday, that way I know my clients have fresh pins posting daily. Peek times are evenings and weekends so I make sure to schedule heavier. Custom scheduling means you choose the time of day the post!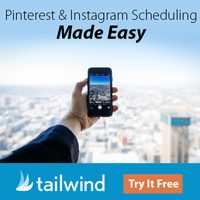 I TRULY AM THANKFUL FOR THE COURSE
It is a life changer for me so I absolutely recommend this course.  No, I'm not making enough to quit my day job (yet) but I know if I keep working at it and educating people on how important Pinterest really is as a platform to grow their business I will be. (update still working my day job but only because I chose to not because I HAVE to)
Sign-ups for the next course start soon but you can go here to get on the waiting list. You don't want to miss out on a life-changing opportunity!!
Have a blessed day Myla